Foodles is a B-Corp certified company! 🎉 💚🌍🏆
📣After transitioning to the status of a Mission-Driven Company in June 2022, all Foodlers are proud to announce the attainment of B-Corp certification!
This achievement reflects our commitment since the inception of Foodles and the dedication of our employees towards responsible and virtuous business practices. This certification will enable us to further progress in our Corporate Social Responsibility (CSR) objectives and our societal and environmental impact.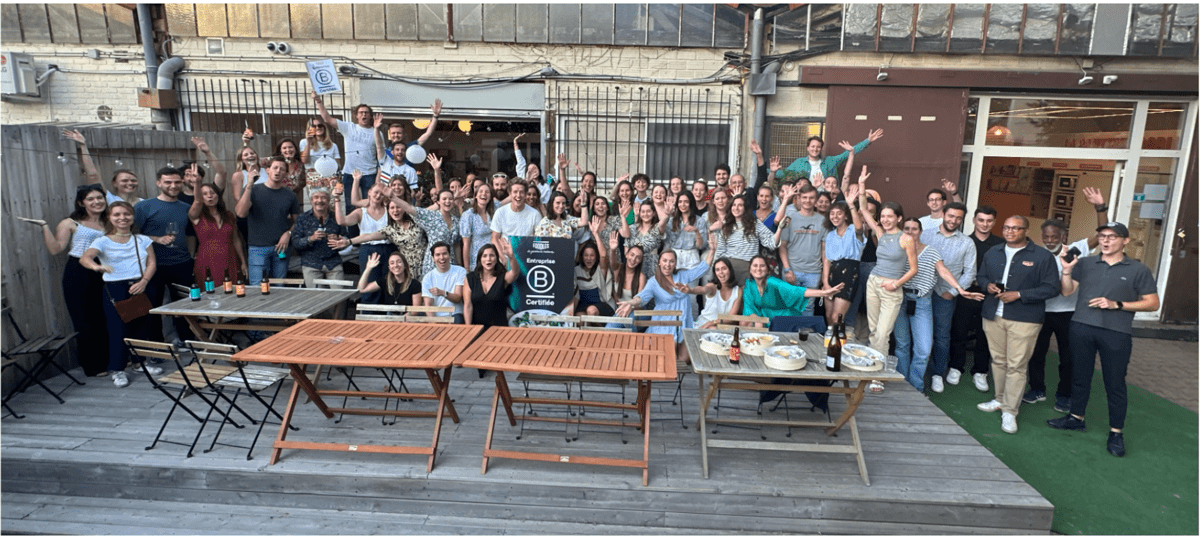 What is B-Corp Certification?
The B-Corp certification is awarded to companies that adhere to the highest standards in terms of social and environmental performance, transparency, and accountability.
This certification is granted by B Lab, a non-profit organization that rigorously evaluates companies based on their global impact.
By obtaining this certification, Foodles joins a global community of businesses that share our vision of a better world.
Indeed, B-Corp signifies:
Over 200 certified companies in France / Over 1200 certified companies in the UK 👀🤝
5 pillars: Governance, Environment, Employees, Community, Customers.
What Does B-Corp Certification Change for the Future?
B-Corp certification not only marks an achievement but also means the beginning of a new era for Foodles. We are committed to continuing to enhance our business practices, innovate in our industry, and contribute to building a fairer and more sustainable world.
In our daily lives, very little will actually change because B-Corp certification simply reaffirms what we have been implementing since 2014. However, this new milestone means that we are now integrated into the B-Corp community. This implies that we will have access to valuable resources and the opportunity to exchange best practices with other B-Corp companies.
This integration will also strengthen our business by demonstrating that our Corporate Social Responsibility (CSR) policy is not just empty words but translates into tangible actions.
Last Thursday, we took the time to celebrate this new certification 🎉🏆.
It was an opportunity for all of us to come together and share a convivial moment, as we do so well at Foodles 🎉🥰.
The Clichy headquarters was decorated for the occasion, making it the perfect place to welcome our dear Gourmils!
We took advantage of the sunny weather to celebrate this certification in the company of B Lab representatives, who first congratulated us and then answered all our questions. Thanks to them!
The UK team also gathered in their offices to celebrate the event!
Music 🎵, Darts 🎯, discussions 💬, snacking 🍔 were also on the agenda for this milestone in Foodles' life!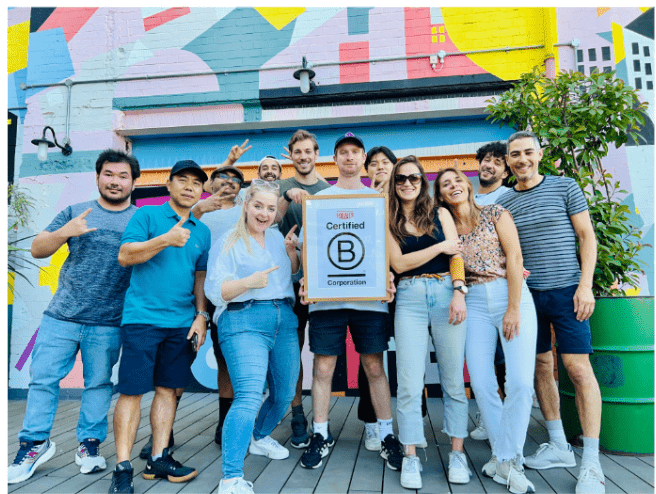 Thank you to all Foodlers for your direct or indirect contribution to obtaining this B-Corp certification, and thank you to everyone for celebrating it in the best possible way!
See you very soon for more great moments to share together!
To find out more, read this article on our corporate website: https://www.foodles.com/articles/foodles-becomes-b-corp